Virtual teams present different challenges and opportunities from those of an onsite team. Radical trust and good communication are crucial between managers and employees who don't see each other with any regularity, and while it may sound daunting, hiring the right people—employees who are trustworthy and strong communicators—is the first step. The best virtual employees will have a unique skill set that keeps them from disappearing into the ether, and their self-sufficiency allows managers to focus on creating an environment in which their virtual team will not only function, but thrive.
"Virtual" commonly refers to working from home, though the term may also reference a "distributed" team, meaning a team whose members are distributed across several office locations.
About this guide
Managing remotely is a skill that can be learned or further refined by considering what makes a great virtual employee, how to foster good communication, ideas for keeping it fun, and tools that promote efficiency and transparency. Topics covered in this Relate Leadership Guide:
虛擬化的好處
在客戶支援方面,聘用合適的人員是關鍵。這聽起來可能有些像好萊塢的台詞,但建立虛擬團隊的第 1 大好處就是人才。虛擬團隊的管理者始終強調聘用最合適人選的重要性,無論其身在何處。
虛擬團隊的管理者始終強調聘用最合適人選的重要性,無論其身在何處。
另一個好處是,虛擬團隊有助於為客戶提供更全面、及時的支援。例如,當提供 24/7/365 第 1 層級支援時,若有人在所需的時區呈活躍工作狀態將是非常有利的。管理者可能需要排程與遍布全球的遠端員工的深夜會議或清晨會議,但團隊在與客戶互動時就能不那麼疲憊,並處於巔峰工作狀態。
Virtual teams can also be advantageous to the employee, offering increased flexibility and quality of life. It might be possible to accommodate someone in California who wants to support East Coast business hours so they can volunteer at their child's school. Or perhaps a key hire lives 40 miles away and isn't keen on making the drive to the office. Removing a commute can sometimes add hours back to the day and may allow an employee to pick up their child from school, eat dinner as a family, or make it to the gym. These seemingly small things can go a long way in keeping employees happy and motivated.
Ideally, the focus and priority of a virtual team stays where it belongs: on the work. In-office distractions such as politics, water cooler gossip, and needing to spiff up to "business casual" every day are removed.
建立虛擬團隊時需考量的問題包括:
我的團隊是否有明顯需要,必須每天處於同一個辦公場所?
對於我的團隊所提供的支援,哪些工作最好在辦公室完成;哪些工作可以在家完成?
我的團隊需要哪些工具以提供遠端支援?
我可以如何利用團隊不同的排程和位置,以提供更好的支援?
我能做到管理無法每天見面的員工嗎?
並不是每個人都能勝任遠端工作,但在適當的情形和良好的管理下,虛擬團隊可以做到自行運作 —— 而且可能就是組織面臨支援挑戰所需的解決之道。
招聘必備
要將招聘範圍從比如大洛杉磯地區擴展到全球可能會讓人感到有些不知所措。更不用說篩選所有這些履歷了。實際上,遠端招聘與本地招聘並沒有太大的區別。遠端工作的最佳求職者仍然很有可能透過網路與招聘找到,並在經過一系列電話篩選、面試和(與領先求職者的)面對面會議後聘用。正如熟練的代理所知,很難在網際網路上,有時甚至是電話上準確地評估品行和個性,因此一開始就面對面交流非常重要。
除了支援角色所需的基本軟技能和技術知識之外,理想的遠端員工還必須具備以下特定特質:
必須具備良好的自我管理能力
必須具備良好的溝通能力 —— 無論是書面還是口頭的
必須能主動聯絡,尋求幫助
必須有誠信正直的品格
必須能在低互動、高靈活性的管理風格下良好工作
必須可值得信賴
可以接受工作場合中沒有常規的社交環境
Determining whether a candidate has these qualities may be difficult. If the candidate held a prior remote position and comes with great recommendations, that helps. If not, be wary of any warning signs during the interview process that might signal unreliable or inefficient communication skills. For example, if there were any scheduling conflicts, did the candidate respond proactively with other times they'd be available, and did their response eliminate unnecessary back-and-forth emails? Also consider whether email communications were well stated, both professional and friendly.
During the interview, did the candidate ask questions or probe to get clarity? This is an important skill for any customer support agent to have, and the way the candidate handled the interview is likely indicative of future behavior. To help gauge a candidate's integrity and ability to communicate in stressful situations, present an urgent, circumstance-driven scenario, one with multiple layers of impact, and ask how the candidate would respond.
One of the potential drawbacks to a virtual team is that when team members are both remote and working different shifts, there can be delays in communication—and miscommunication or lack of communication can be costly. Team members must be confident and comfortable making decisions at times when there is no one immediately available to reach out to.
Ultimately, the best candidates for a virtual team are those who are self-motivated and self-managing, and used to keeping multiple balls in the air. It may seem counter-intuitive, but people who desire flexible schedules so that they can do more with their time…do more. The ideal virtual employee is capable of balancing their workload and extracurricular activities, and having the ability to do so is motivating and part of what makes the job more attractive.
The ideal virtual employee is capable of balancing their workload and extracurricular activities, and having the ability to do so is motivating and part of what makes the job more attractive.
遠端員工常常被描繪成穿著睡衣在家工作的懶散之人,或是在星巴克一邊工作一邊刷 Facebook 或球隊比分的人。但是除了自我激勵和自我管理的能力之外,最佳虛擬員工還需具備自我調節的能力。敬業的遠端員工實際上都面臨過度工作的風險,因此知道何時停止與完成任務的能力一樣重要。儘管全日無休的遠端員工聽起來像是賦予管理者的恩賜,但過度工作會很快導致精疲力盡。
入職流程的重要性
Members of a virtual team will benefit from a strong support network. There will be times when virtual team members are working alone and cannot reach another teammate to ask for help. For this reason, it's worth the time to provide extensive onboarding and ongoing training opportunities so that each member of the team is equipped with the resources, tools, and confidence they'll need once they are on their own.
有時候,虛擬團隊成員只能獨自工作,無法聯絡到其他團隊成員尋求幫助。因此,值得花時間提供大量的入職與持續訓練機會。
Regardless of their location, remote employees should be provided with the same tools that an onsite employee receives: hardware (laptop, monitor, and phone), Internet, and access to IT support. They will also need standard new-hire training on company culture and processes, high-level introductions to different groups within the company, product training, intensive training specific to their role, and on the tools needed to successfully do their job. If possible, much of this training should be in person, with opportunities for peer-to-peer shadowing. The idea is to build rapport and promote conversation from the very beginning. It may also be helpful to have virtual hires train with corporate IT as part of onboarding so that they can learn about machine maintenance, security, network, policy, and procedural issues in the event that something goes haywire.
Following initial onboarding, consider having virtual team members participate in a mentorship program or schedule an overlapping hand-off period each day, in addition to regularly scheduled 1:1's and weekly team meetings. It's also helpful to give everyone access to a shared, online knowledge base where they can make scheduling changes, ask questions, and/or share best practices, tips, and challenges.
It's crucial that virtual employees aren't afraid to ask questions, especially at times when they recognize they need additional assistance. Implementing a virtual "open door" policy and fostering an attitude of "there are no stupid questions" can help encourage virtual employees to pick up the phone when they need to.
Here's another way to think about onboarding: Each member of a virtual team is essentially the sole inhabitant of an island. The more resources they have, the better. They are their own first line of defense, and if the team is well equipped from the get-go, their survival (read: success) is almost assured.
You can find some advice about onboarding new customer service agents in the Recruiting, hiring, and onboarding customer service agents leadership guide.
The nuts and bolts of managing virtually
促進輕鬆溝通、提高效率和協作,並且安全的各種工具是虛擬管理的巨大資產。訓練團隊使用和管理相關工具,以及圍繞團隊流程和政策設定期望非常重要。實現透明度是關鍵。
那麼虛擬團隊如何進行日常的合作?請考量以下幾點:
How often do you expect to hear from each virtual employee? How often should each employee interact with other team members?
What combination of email, phone, and/or video conferencing works best? What tools will you use? Consider Skype, GoToMeeting, Google Hangouts, and Google Talk.
您的團隊是否需要在工作時間登入某個支援工具或即時傳訊工具?
What other collaborative resources are available? Or, is there an app for that? Here are some ideas: Slack, Flowdock, HipChat, Campfire, Sqwiggle, Hojoki, Podio, and Yammer. Also consider social media monitoring tools like Hootsuite, Sprout Social, and Falcon Social that enable your team to collaborate on tasks generated from social media posts.
誰將負責維護工具?當負責工具的人已離線,工具發生故障時,應執行怎樣的政策?
您是否有一個自助服務客服中心,包括知識庫和社區?
支援排程是怎樣的?對於虛擬/分散式的團隊而言,您是否需要待命排程?
您是否可以提供面對面的團隊聚會?各個團隊成員是否瞭解可能需要定期出差?
您如何促進學習、負責制和責任感?
在團隊經常進行書面溝通時,您如何促進積極與建設性的反饋?
Monitoring metrics and KPIs, giving performance reviews, and having regular check-ins continue to be as important (if not more so) to a virtual team as to an onsite team.
Communicating with virtual team members
The chances are that virtual team members may never meet and even if they do that won't ensure that future communication between them will be smooth and efficient. It's tough to build working relationships remotely. With that in mind, here are some tips to help improve and maintain the long distance relationship between virtual team members.
Set up recurring meetings (virtual dates) with other team members. Use this time to check in with each other and collaborate on work projects. This can be as a one to one interaction or with multiple team members; whichever achieves the better communication goals you have.

Use empathy-building questions to build better connections. Ask your colleague questions about themselves; how they're doing, what they're working on, and so on. Make an effort to understand who they are as people.

Over-communicate. Make an effort to connect as much as possible, be proactive about sharing status on work projects, stick to those recurring check in meetings, and record meetings as needed for future reference.

Share the time-zone challenges. Schedule meetings that are convenient for all participants and that fall into normal working hours. Of course that's not always possible—especially if the team is located across the globe. In that case, rotate the recurring meeting so that everyone makes a little sacrifice now and then and takes a meeting at 6am if needed. An excellent tool for planning meetings in multiple time-zones is the World Clock Meeting Planner at timeanddate.com.
The Relate article "Tell me your story"—communicating with remote employees provides a more in-depth look into this subject.
遠端指導
管理虛擬團隊時面臨的一項主要挑戰是如何使團隊不感到被孤立。現場團隊通常會參加每季度的團隊建立活動;儘管對於虛擬團隊而言這些活動更難協調,但它們仍然很重要。提供福利、獎勵以及社交、娛樂的機會也同樣重要。
對於將虛擬團隊凝聚在一起,並給予出色完成的工作認可這方面,有以下這些建議:
1. Bring the team in for a customer care in-office retreat with opportunities for shadowing, team building, lunches or dinner, meet and greets, or happy hours.
2. Surprise individuals who are doing a good job with a gift card delivered to their email inbox.
Promote and support attendance at conferences. It might be fun for a few team members, or even the whole team, to periodically meet in different locations, learn something new, and to share their experiences afterward.
3. Award comp time. While remote employees may be great at managing their workload, they will still appreciate being recognized for times when they've gone above and beyond or have worked extra-long hours.
4. Think about the fun benefits that companies sometimes bring in-house and then creatively distribute them to your virtual team. How about an in-home ergonomic consultation or a half-hour back massage? What about a cookie basket or lunch delivery?
5. Consider tools that will help your team work remotely—such as tablets, headphones, phone upgrades—as tangible rewards. Can you budget for an annual team raffle?
The best thing a manager can do, outside of making employees feel appreciated, is to foster great communication. Managers should communicate as frequently and proactively as they expect their team to. Managing remote employees shouldn't require micromanagement, but may involve taking some extra time to listen, to say hello in the morning or at the beginning of a shift, and by being generally available (or providing alternate contacts) to team members.
The best thing a manager can do, outside of making employees feel appreciated, is to foster great communication. Managers should communicate as frequently and proactively as they expect their team to.
Visibility is a mutual challenge that both managers and virtual employees have to overcome. Neither party wants to fall too far into the "out of sight, out of mind" vortex. As with any team dynamic, managers and remote employees must actively work on fostering open communication, including both praise and constructive feedback, and on building trust. If managers can place the emphasis on performance and delivery, and look for opportunities to coach and fill gaps in training, a virtual team has the potential to run like a well-oiled machine.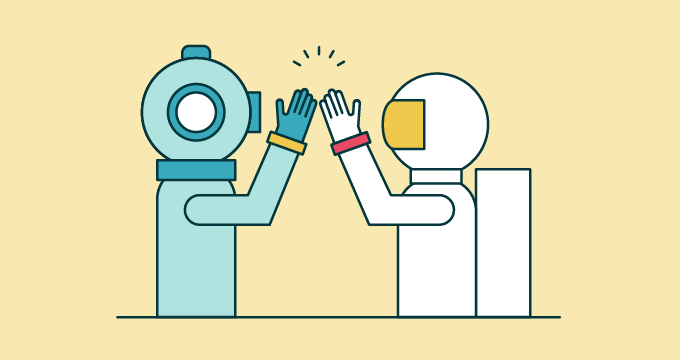 Structure your team for success
Create growth and set up your support team for success using these tools and frameworks.